If you believe that incremental change is better than nothing, there are things you can do to help.
Sign this petition today so that we can tell members of Congress the truth:
The loophole should be CLOSED,
MLMs should play by the same rules as every other business opportunity, and
The FTC should be fully funded and allowed to do its job to protect consumers.
TELL CONGRESS TO CLOSE THE MLM LOOPHOLE!
CALL TO ACTION: Big Pyramid's Annual Lobby-Fest Coming Up Quick
The Direct Selling Association's Legal and Regulatory Seminar
MICHELLE CARPENTER | AUG 17, 2023
As you may (not) have heard, the Direct Selling Association's Legal and Regulatory Seminar (A.K.A. the 'DSA Day on The Hill') is quickly approaching. Lobbyists for Multilevel Marketing Companies—or, more specifically MLM companies who continue to pay the DSA's extortive dues—will be descending upon Capitol Hill for three days, beginning September 20th, 2023.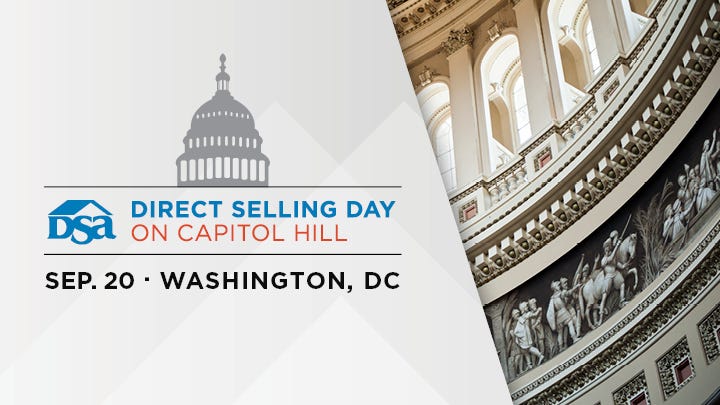 This event serves as an opportunity for the DSA to lobby elected officials and promote the interests of multi-level marketing (MLM) companies. As advocates and activists focused on ethical changes to MLM, we must take this opportunity to voice our concerns and share our personal experiences to counteract their efforts to sugarcoat the realities of the industry.
Multi-level marketing companies often prey on vulnerable individuals with deceptive promises of financial freedom and success. The reality is a vast majority of people who join these schemes lose money, and their personal and professional relationships are often damaged due to the encouraged, aggressive recruitment tactics.
Now is the time to reach out to your elected representatives and make your voice heard. Here's what you can do:
Write a letter or email to your elected officials*, sharing your concerns about MLMs and any personal experiences you've had with these predatory business models. Be specific about how MLMs have negatively impacted your life or the lives of those around you.
Share your story on social media* using the hashtags #AntiMLM, #DirectSellingDay, #DSD2023, and #ThisIsMyStory. (Friend and tireless consumer activist Julie Anderson let me know that DSA Canada is encouraging MLM representatives to share their "positive" experiences on social media using these last two on September 20th—can we drown them out?) Encourage others who have been affected by MLMs to do the same. The more stories we share, the more likely we are to be heard by our representatives and the general public.
Research the voting records and stances of your elected officials on MLMs and consumer protection. If they have supported legislation that benefits MLMs in the past, consider reaching out and respectfully asking them to reconsider their position in light of the countless stories of financial ruin and emotional distress caused by these companies.
Connect with other anti-MLM advocates in your community or online and organize a group letter-writing campaign. There is strength in numbers, and a united front will make our message even more powerful.
Encourage friends, family, and community members to join the fight against MLMs. Educate them about the dangers of these schemes and help them recognize the red flags. 🚩
---
*Social Media:
Back in March, you might recall me sending around a survey with questions on it about the effectiveness of Social Media in influencing and deconstructing generational beliefs about Multilevel Marketing. Based on over 1100 responses, we at MLMChange.org were able to gauge which Social Media platforms this message might be most effective on, if that is your chosen method of spreading the word:
*Elected Officials:
If you don't have a personal story to share to your Federal, State, or Local representative, consider writing to a member of the Financial Services and General Government (FSGG) Appropriations Subcommittee, or any of the Congress members who will be voting on their proposed amendments to the FTC's appropriations soon, objecting to their recent push to withhold funding to the Federal Trade Commission when that funding would be used specifically "to finalize or enforce the 'Trade Regulation on the Use of Earnings Claims' or the 'Review of the Business Opportunity Rule' rulemakings without a clear statement of need or unless overlapping rulemaking and improvements in self-regulation and consumer protection of industries that would be impacted is considered."
This is nothing more than a delay/disrupt tactic being employed by politicians—likely some of the politicians who will be canoodling with DSA lobbyists next month. The bill has not gone to the full House for a vote yet, and progress on that can be tracked here.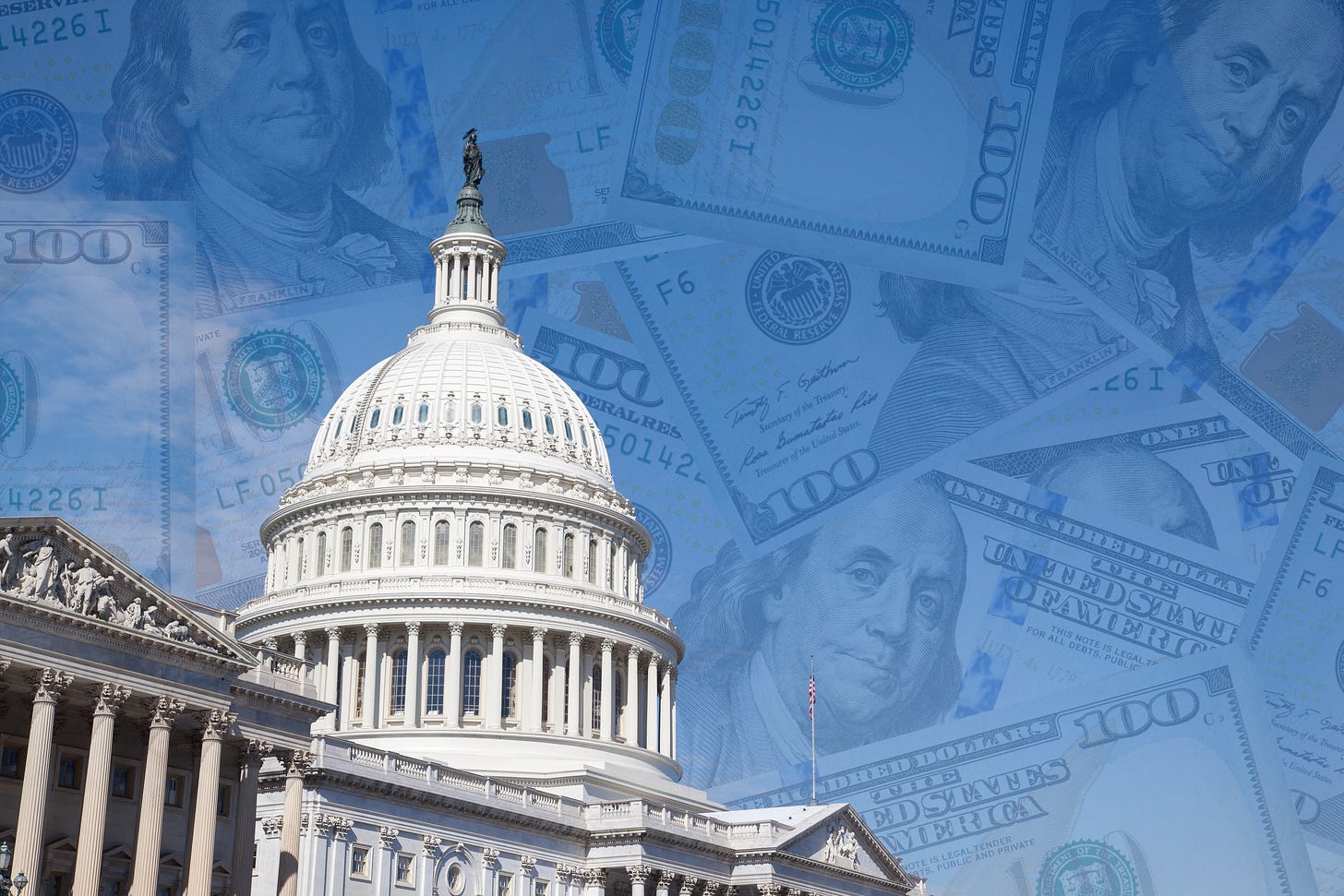 ---
It is my strong belief that by speaking up and sharing our experiences, by connecting with the folks in Congress who represent us, we can help to counteract the lobbying efforts of the DSA and protect potential victims from falling into the MLM trap. Let's make sure that our elected officials understand the true nature of MLMs and the harm they cause to individuals, families, and communities. The time to act is now.
Sincerely,
Michelle Carpenter

The cult-to-MLM pipeline is a topic that has fascinated me for a while now, but I have found it difficult to write about publicly because of the general lack of understanding or knowledge pertaining to some of the requisite concepts in society at large. I've had some incredible conversations with former MLM participants, ex-cult members,…

Could this be a sign to the MLM industry that they're losing their home team advantage? A little background… The Business Opportunity Rule is a federal regulation that requires certain business opportunity sellers to provide prospective buyers with specific information before they enter into a business opportunity agreement. Under the rule, a business opportunity is… Read…
Sections & Resources:
MLMChange.org encourages any and everyone whose life has been affected by deceptive practices in Multilevel Marketing to use any public comment periods announced by the FTC as an opportunity to ensure your story is heard by authorities who could be preventing future victims like you. Submission of evidence of any widespread harmful tactics is particularly encouraged (find acceptable file formats and sizes at the link above), however, your comment does NOT need to:
– Conform to any template, script, or style
– Address or answer any specific questions set out by the FTC
– Contain any identifying personal information
– Include file attachments
That being said, if you prefer to use the FTC's questions as a guide for writing your comment, keep reading.
by Adam Looney
Director, Center on Regulation and Markets
Senior Fellow, The Brookings Institution
Please note that these public comment periods are not a numbers game–we provide these to provoke and inspire, not so that they can be duplicated. A large number of nearly-identical comments is what we could expect from lobbyist groups like the DSA; it would be wasteful and counterproductive to organize such a push and MLMchange.org is not about that. Additionally, the views and opinions expressed in any public comment shared here are not necessarily those of MLMchange.org or its contributors/volunteers.
With 25 different questions about a rule that covers (or could potentially cover) many industries, figuring out which questions are relevant to your experience and the opinions you want to share can be time-consuming and overwhelming. Thank goodness Dave Vaughan has created a super easy quiz to guide you in the right direction–for you.
Do you want to help the FTC to make better rules against deceptive earning claims by MLMs, but the thought of sitting down and writing out your experience is daunting? That's what Prof. Claudia Gross' FTC Comment Crafter is for.
Answer a set of writing prompts inspired by the official questions, then copy and paste the preview at the end into an official comment for the FTC!
By describing your experience, you can help the FTC understand the problem. The more people share their experiences, the clearer it gets that action by the FTC is needed.
Glossary of Terms
Word, Phrase, or Acronym:
Definition or Context:
ANPR
ANPRM
Advance Notice of Proposed Rulemaking – According to The Regulatory Group, Inc., an ANPR/ANPRM is "a document that an agency may choose to issue before it is ready to issue a Notice of Proposed Rulemaking (NPRM). It may also be called a "notice of intent" or simply a "request for comments." The ANPRM is used by an agency as a vehicle for obtaining public participation in the formulation of a regulatory change before the agency has done significant research or investigation on its own. Thus, one of the primary uses of an ANPRM is to involve the interested public in a regulatory action at an early stage, before the agency has arrived at even a tentative decision on a particular regulatory change. In some cases, the agency may issue an ANPRM to test public reaction to a proposal."
BOR
Biz Opp Rule
Business Opportunity Rule – The FTC's Business Opportunity Rule was first adopted in 2012, making it easier for people to get the information they need when they are thinking about investing in a business opportunity.
The Business Opportunity Rule prohibits those selling a business opportunity from making deceptive statements, and it requires them to make a number of key disclosures to potential buyers, including:
– The seller's identifying information.
– Whether the seller is making claims about possible earnings or profits, and if so, information that backs up those claims.
– Whether the seller, its affiliates, or key personnel have been involved in certain legal actions, and if so, information on those actions.
– Whether the seller has a cancellation or refund policy, and if so, the terms of that policy.
– A list of people who have purchased the business opportunity in the last three years.
Sounds perfect for protecting people from MLM schemes, doesn't it? Well, it doesn't currently cover them.
MLM
Multilevel Marketing or an individual Multilevel Marketing Company
Business Opportunity
Biz Opp
According to the FTC, "Business Opportunities" refers to "commercial arrangements where a seller solicits a prospective buyer to enter into a new business, the prospective purchaser makes a required payment, and the seller – expressly or by implication – makes certain kinds of claims."